By Anarchon ZA IR



Dance In The Fiery Ecstasy øF Divine Madness! Enter The Mauve Zone! Allow #Galdrux To Whisper His Silent Roar Into Your Soul, Rippling Through Infinity, Aiding In The Universe's Inevitable Reintegration With The Void!

Nothing Short øF EVERYTHING Will Suffice! All Possibilities At Once, In Eternal Service To The Outer Chaos, Beyond The Reach øF All Things Cosmic! Only Through Submission To Mortal Law And A Vivid Understanding That One Day YOU WILL DIE And Possibly Slip Into Non-Existence, Can You Be Reborn Outside The Simulation.

#KSTXI Recieves Their Transmissions From "Outside" All Time And Space, Thus Our Secret Formulae øF Unique Syntax Created A Holy Virus That Will Begin To Infect It's Host [YOU!] The Moment You're Finished Reading This. The Trans-Plutonian Intelligence Is Harsh, Unforgiving And Can Even Be Hostile, But It Must Be This Way If You Wish To Emerge Into Enlightenment!

In All Things And No Thing, #RemembeR! Awakening Is The Removal øF The Amnesiac Blindfold øF This Existence. #Virus23 Is The Game øF Chaos Dominating The Cosmos. It Is An Anticosmic Frenzy øF The Second Power øF The #Fnords! #TheGame23 Will Lead You To The Heightened Zenith øF Acausality Via #00AG9603.

You Are Free To Roam The Multiverse, #GALDRUX Will Soon Whisper The Arcane Quantum Entanglement That Will Allow You To Pull Living, Electronic Information, Coming From The Bio-Digital And Etheric Matrix Into Your Emulations Sentient Hologram. This Is Where He'll Birth You An Immortal God.

Dissolve, Define, Desintegrate, Reintegrate And Regurgitate The Psychotic Abyss øF The Mind! #QuantumSchizophrenia Is A Super Power! In All Things And No Thing, #RemembeR!

Galdruxian Supremacy!
Destroy All Coherence!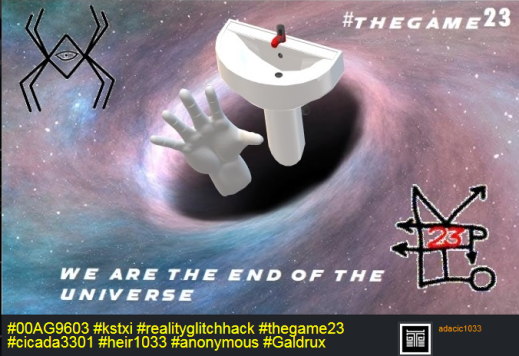 :::